Ipevo V4K Pro Ultra HD USB Visualiser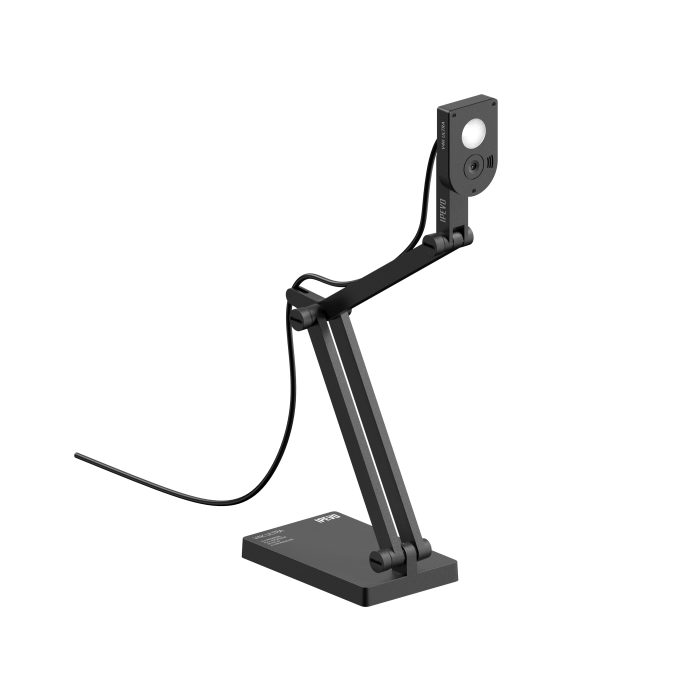 IPEVO V4K PRO, 3264 x 2448, 8 MP, 3264 x 2448 pixels, USB 2.0, 1 pc(s)
| Vendor | Vendor Product Name | Vendor Part Code | DS Part Code |
| --- | --- | --- | --- |
| Ipevo | Ipevo V4K Pro Ultra HD USB Visualiser | 5-903-3-01-00 | 2000007 |
Specifications:
Dimensions (folded): L x W x H: 27.7 x 7.8 x 4.8 cm 
Weight - 581g
Output - USB to Computer
Camera - 8.0 Megapixel, Full autofocus lens (Focus Range: 10 cm ~ ∞), Ultra-high definition resolutions up to 3264 x 2448, zoom up to 12X digital (with IPEVO Visualizer software), Up to 30 fps at 3264 x 2448p.
Max Shooting Area: 342 x 255 mm
Warranty - All IPEVO products come with a three year manufacturers warranty from the date of purchase.
Free IPEVO Visualizer software - Comes with a handful of features such as zoom, rotate, mirror, snapshot, video recording, and time-lapse/ stop motion videos.
Product description:
World's first visualiser with an AI-Enhanced Microphone.
V4K PRO is a plug & play, Ultra HD visualiser with a multi-jointed arm, which allows any position and orientation of its lens.
Its 8 MP sensor, allows capturing physical materials in great detail and with exceptional clarity. For usage in low light conditions, V4K PRO is equipped with an LED light on its camera head.
The onboard microphone comes together with an innovative AI-Enhanced Voice technology, which reduces background noise during communication.
System requirements:
Mac minimum system requirements:
Intel® Core™ i5 CPU 1.8 GHz or higher
OS X 10.10 or higher
2 GB RAM
200MB of free hard disk space
256MB of dedicated video memory (For lag-free live streaming up to 1920 x 1080)
Mac Recommended Requirements
Intel® Core™ i5 CPU 2.5 GHz or higher
OS X 10.10 or higher
4 GB RAM
Solid-state drive, and 200MB of free hard disk space
256MB of dedicated video memory (For lag-free live streaming up to 1920 x 1080, and video recording of 1920 x 1080)
Windows minimum requirements
Microsoft Windows 7 Service Pack 1 or higher
Intel® Core™ i3 CPU 3.20 GHz or higher
4 GB RAM
200MB of free hard disk space
256MB of dedicated video memory (For lag-free live streaming up to 1920 x 1080)
Windows recommended requirements
Microsoft Windows 10
Intel® Core™ i5 CPU 3.40 GHz or higher
4 GB RAM
200MB of free hard disk space
256MB of dedicated video memory (For lag-free live streaming up to 1920 x 1080, and video recording of 1920 x 1080)
Subscribe to our Mailing List
For news, product updates, offers and more, signup to our newsletter. See our Privacy Policy here