Gumdrop Hideaway for iPad 10.2-inch (7th, 8th, 9th Gen)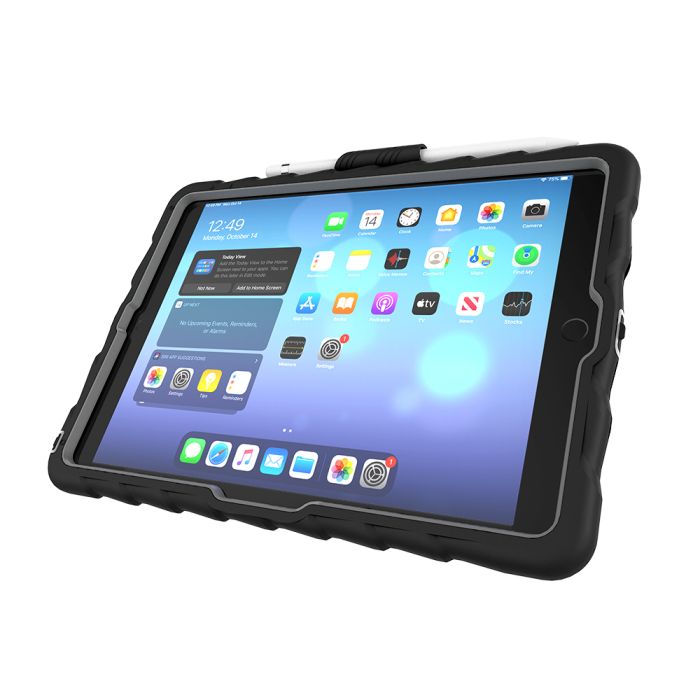 The Hideaway iPad case features a shockproof, heavy duty tread design with a disappearing built-in stand The stand ingeniously hides away into the easy-grip rubber pattern, and can easily be engaged with a simple flip and click The magnetized stand holds fast to the iPad to keep it securely locked in place when not in use The case features a silicone cover with tire tread design, wrapping a rigid plastic inner frame to fasten snuggly to the new 7th Gen iPad The case also features a protective screen cover to stop spills, splashes, dust, and dirt from damaging or scratching the iPad face Even with all of this protection, you still have full access to the iPad's ports, switches and buttons Gumdrop cases have been rigorously tested and can survive repeated 6-foot falls on concrete or tile
| Vendor | Vendor Product Name | Vendor Part Code | DS Part Code |
| --- | --- | --- | --- |
| | Gumdrop Hideaway for iPad 10.2-inch (7th, 8th, 9th Gen) | 03A005 | 9500012 |
Key features:
Built-in stand held in place with magnetic snaps
Complete protection for the 10.2" iPad (7th Gen and 8th Gen), including screen and port covers
Rigid internal frame protects against repeated drops
Integrated and replaceable screen shield prevents scratches
Full access to touch ID technology
Excellent drop protection! 
Description:
Complete protection for your new 7th, 8th, and 9th Gen iPad!
If you're looking for heavy-duty protection for Apple's new iPad, you've found it in the rugged Hideaway case. The Hideaway iPad case features a shockproof, heavy duty tread design with a disappearing built-in stand. The stand ingeniously hides away into the easy-grip rubber pattern, and can easily be engaged with a simple flip and click. The magnetised stand holds fast to the iPad to keep it securely locked in place when not in use.
The case features a silicone cover with tire tread design, wrapping a rigid plastic inner frame to fasten snuggly to the new 7th Gen iPad. The case also features a protective screen cover to stop spills, splashes, dust, and dirt from damaging or scratching the iPad face. Even with all of this protection, you still have full access to the iPad's ports, switches and buttons!
Gumdrop cases have been rigorously tested and can survive repeated 6-foot falls on concrete or tile!
Specifications:
Width - 7.91 in.
Height - 10.48 in.
Depth - 0.75 in.
Weight - 0.81 lbs.
Subscribe to our Mailing List
For news, product updates, offers and more, signup to our newsletter. See our Privacy Policy here