Andrea EDU-175 Stereo On Ear Headphone with 3.5mm Jack Plug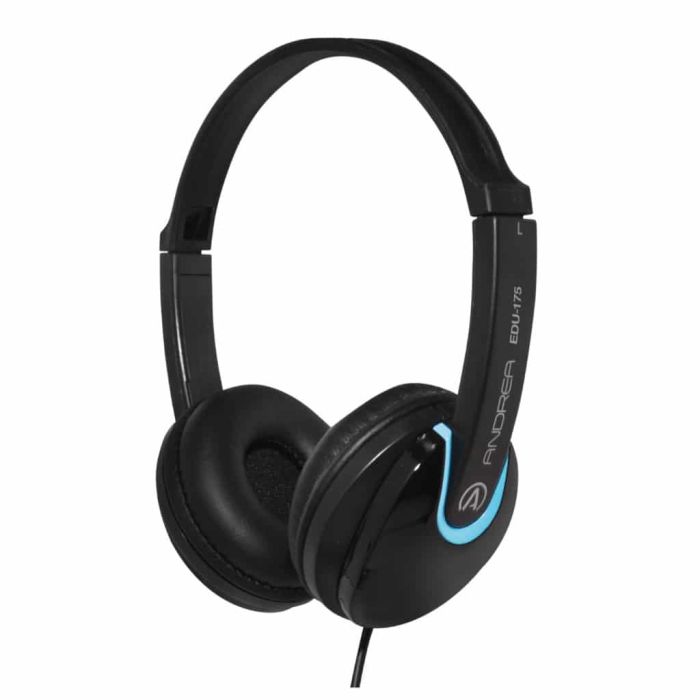 Andrea EDU-175, Wired, Music, 50 - 20000 Hz, Headphones, Black, Blue
| Vendor | Vendor Product Name | Vendor Part Code | DS Part Code |
| --- | --- | --- | --- |
| Andrea Communications | Andrea EDU-175 Stereo On Ear Headphone with 3.5mm Jack Plug | C1-1030100-1 | 710004 |
Specifications:
Speaker Plug 3.5 mm - Green (audio) 
Frequency Range - 50-20,000 Hz
Coil Resistance - 32 ohm
Sound Output from 1kHz 1mW Input (0dB=20µPa) - 114 dB
Maximum Input Power - 40 mW
Product description:
Andrea Communications EDU-175 On-Ear Stereo Headphones deliver incredible sound at a value price. The EDU-175 headphones, with convenient in-line volume control, are perfect for use in educational settings, as computer headphones, or for listening to your favourite music or podcasts.
Plush leatherette ear cushions are easy to wipe clean and the adjustable headband ensures a comfortable fit even on smaller heads.
Key features:
40mm speakers with deep bass sound deliver crystal clear audio
Plush, extra-thick leatherette on-ear cushions reduce background noise and are easy-to-clean
Adjustable headband for a comfortable fit
Convenient in-line volume control
Extra long 8 foot cable with colour coded 3.5mm plug
Well-built and cost-effective
Certified safe for use by children in accordance with the United States Consumer Product Safety Commission
Subscribe to our Mailing List
For news, product updates, offers and more, signup to our newsletter. See our Privacy Policy here