Andrea Communications ANR-950 Wireless Bluetooth Headphone with Active Noise Reduction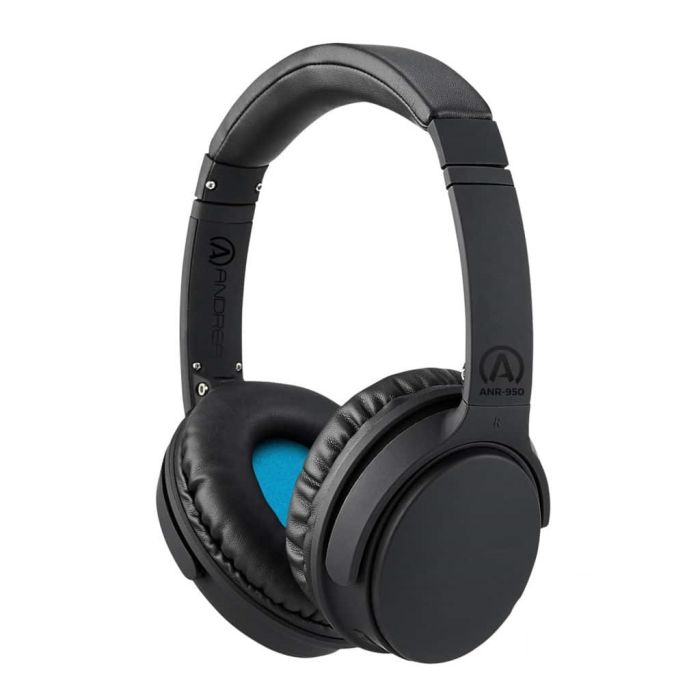 Andrea Communications ANR-950, Wired & Wireless, Music, 20 - 20000 Hz, Headphones, Black, Blue
| Vendor | Vendor Product Name | Vendor Part Code | DS Part Code |
| --- | --- | --- | --- |
| Andrea Communications | Andrea Communications ANR-950 Wireless Bluetooth Headphone with Active Noise Reduction | C1-1032800-50 | 710039 |
Specifications:
Battery type - Li-ion 
Battery capacity - 250mAh
Playing time - 6 hours
Charging time - 2 hours
Standby time - 120 hours
Speaker size - > 40mm Diameter
Frequency range - 20-20000Hz
Impedance - 24Ω±15%
Sensitivity - 96dB±3dB
Rated power - 30mW
Maximum input power - 150mW
Bluetooth Version - V5.0+EDR
Frequency - 2.402-2.480GHz
Active cancellation - -23dB~-25dB
Transmission power - 10m/ 30feet
Talking time - About 6 hours
Music playing time - About 6 Hours
SNR - ≥75dB
THD - ≤0.1
Sensitivity - -42±3dB
Directivity - Omni-directional
Impedance - <2.2KΩ
Product description:
The Andrea ANR-950 Bluetooth® wireless headphone with Active Noise Reduction (ANR) technology eliminates unwanted noise, creating a peaceful listening environment. The ANR-950 offers superior noise reduction to simply enjoy the quiet or to listen to high fidelity sound without the distraction of background noise.
The incredible sound with active noise reduction makes the ANR-950 perfect for music listening, to reduce noise in aircraft cabins or for use in other noisy environments. The ANR feature can be used in both Bluetooth® mode and in auxiliary mode as when plugging into an airline seat. Originally developed and approved as a low-cost solution for school testing in the United Kingdom's DSA market, the ANR-950 is the perfect option for schools that require an affordable ANR headphone solution for students of any age.
The ANR-950's 40-millimetre drivers utilise high power neodymium magnets to deliver true high definition sound in a wide dynamic range. The headphone is lightweight with a padded headband and plush ear cushions for all day comfort.
Includes a travel case, USB charging cable and an auxiliary 3.5mm cable for connecting to any non-Bluetooth® device.
Key features:
Active noise reduction technology (ANR) eliminates unwanted noise, creating a peaceful listening environment.
Soft vinyl closed ear cushions create a tight seal around ears and reduce ambient noise.
Fully collapsible design makes headphones perfect for travel with included carry case.
Extra-soft, padded headband delivers lightweight comfort for extended listening sessions.
40mm speakers with 20-20,000 Hz frequency response offers a full range of deep bass and treble clarity for ultimate sound quality.
Includes an auxiliary 3.5mm cable for use with any non-Bluetooth® device and a USB charging cable.
Convenient, built in microphone allows for easy, hands free call answering and redial.
Compatibility:
The ANR-950 is compatible with all Bluetooth® devices such as mobile phones, tablets, laptops and computers. The ANR-950 can also be used with non-Bluetooth devices using the included 3.5mm cable connecting directly to your device.
Subscribe to our Mailing List
For news, product updates, offers and more, signup to our newsletter. See our Privacy Policy here