Ipevo VZ-X Wireless, HDMI & USB Visualiser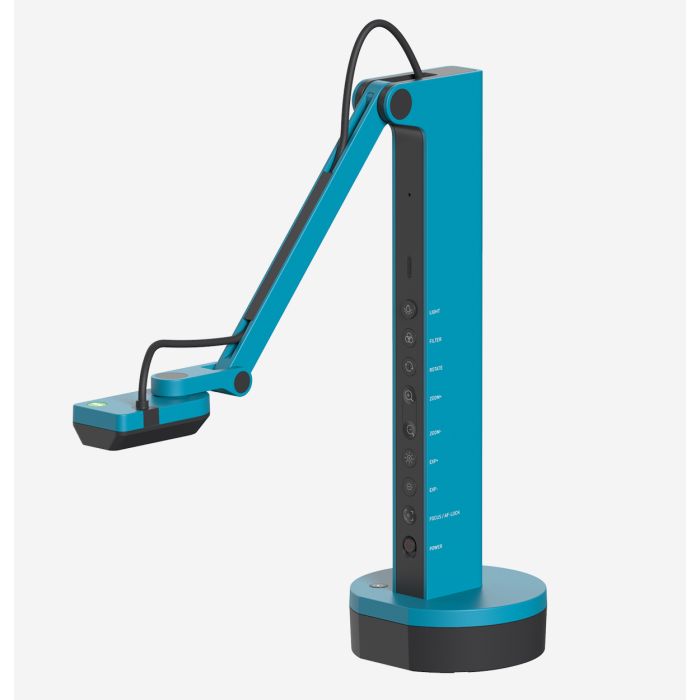 IPEVO VZ-X, 1920 x 1080 (HD 1080), 3264 x 2448, 8 MP, 3264 x 2448 pixels, Battery, Android, iOS, 1 pc(s)
| Vendor | Vendor Product Name | Vendor Part Code | DS Part Code |
| --- | --- | --- | --- |
| Ipevo | Ipevo VZ-X Wireless, HDMI & USB Visualiser | 5-902-4-01-00 | 2000005 |
Specifications:
Dimensions (folded): D x W x H: 11.6 x 10.8 x 32.2 cm
Weight - 1.17kg
Output - Wireless to computer or mobile device, HDMI to TV or projector, USB to Computer
Camera - 8.0 Megapixel, Full autofocus lens (Focus Range: 10 cm ~ ∞), High definition resolutions up to 3264 x 2448 (USB mode), and up to 1920 x 1080 (HDMI or Wi-Fi mode) Up to 30 fps live video capture (at full HD)
Max Shooting Area: 283 x 501mm [16:9], 363 x 483mm [4:3]
Warranty - All IPEVO products come with a three year manufacturers warranty from the date of purchase
Free IPEVO Visualizer software - With a handful of features such as zoom, rotate, mirror, snapshot, video recording, and time-lapse/ stop motion videos
Product description:
Visualize the Big Picture, Wirelessly.
VZ-X is IPEVO's most versatile visualiser, which features three connection modes-Wi-Fi, HDMI, and USB. You can use it with a computer, iOS/Android devices, or directly with an Apple TV, TV, projector, or monitor.
VZ-X's 9 to 12-hour battery life will last through your whole presentation session. In dimly lit environments, you can activate the LED light on the camera's head. In the USB mode, you can also use the onboard microphone, and speak right from where you present.
Thanks to the 8 MP image sensor from Sony and an Ambarella system-on-a-chip (SoC) you can share your materials in great detail and image quality, with fast focus speed, improved noise reduction, and excellent colour reproduction.
System requirements:
Mac minimum system requirements:
Intel® Core™ i5 CPU 1.8 GHz or higher
OS X 10.10 or higher
2 GB RAM
200MB of free hard disk space
256MB of dedicated video memory (For lag-free live streaming up to 1920 x 1080)
Mac Recommended Requirements
Intel® Core™ i5 CPU 2.5 GHz or higher
OS X 10.10 or higher
4 GB RAM
Solid-state drive, and 200MB of free hard disk space
256MB of dedicated video memory (For lag-free live streaming up to 1920 x 1080, and video recording of 1920 x 1080)
Windows minimum requirements
Microsoft Windows 7 Service Pack 1 or higher
Intel® Core™ i3 CPU 3.20 GHz or higher
4 GB RAM
200MB of free hard disk space
256MB of dedicated video memory (For lag-free live streaming up to 1920 x 1080)
Windows recommended requirements
Microsoft Windows 10
Intel® Core™ i5 CPU 3.40 GHz or higher
4 GB RAM
200MB of free hard disk space
256MB of dedicated video memory (For lag-free live streaming up to 1920 x 1080, and video recording of 1920 x 1080)
Subscribe to our Mailing List
For news, product updates, offers and more, signup to our newsletter. See our Privacy Policy here