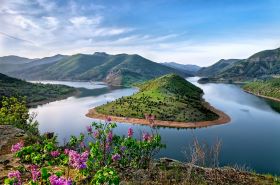 The past 12 months
This April, we marked one year in our new office and warehouse. Whilst relocating during a global pandemic could be perceived as risky by some; however, relocating has enabled Douglas Stewart to achieve a lot in just 12 months.
Invest in stock
An adequate warehouse size was high on the list when looking for the ideal premises. Moving to a space with ample storage has meant we could invest more in stock that we hold. The larger capacity warehouse has enabled us to maintain a greater inventory level, meaning our customers have been able to receive their orders quicker and in full first time.
Invest in staffing
Without good staff, the business would not be able to survive. In the last year, we have taken on new team members to assist with sales, marketing, administration, and warehousing/logistics. Without these team members, we would not be able to service our customers and vendors to the high standards that we strive to achieve.
New website
An effective website is vital to any business. It showcases the brand and products available to existing and prospective customers. It generates leads and provides customers with a bank of knowledge about the company and products. Our new website, alongside the rebrand of Douglas Stewart, has enabled our resellers to purchase online whilst showcasing the products we sell in a much more user-friendly way.
Onboarding new vendors quicker
With more staff and space, we have been able to onboard new vendors quickly and effectively with improved results. Whilst this is, of course, important for all vendors, it is particularly beneficial to those new to the market. Ensuring a quick onboarding process means these new to market vendors are quickly represented in the marketplace.
Staff welfare
The move to the new offices has also provided the team with a professional working environment with the opportunity for effective collaboration. Whilst still adopting a hybrid model with some staff working from home, the team can work together in a way that encourages positive change within the business. With space for meetings and catch-ups, the team can work together, focusing on a single Douglas Stewart vision.
New corporate look
Following an in-depth review of our brand, which involved examining our competitors, research with our vendors and resellers, and internal discussions, we have been able to define our corporate goals and identity clearly. This has resulted in a new look for Douglas Stewart, with a new tagline and vision.
What's next?
After the success of the last 12 months, we will continue going from strength to strength. We aim to attract more vendors and increase our resellers by attending more trade shows and exhibitions. We will work closely with our vendors to build on our existing relationships to encourage sales and presence within the market. If you would like to join the Douglas Stewart reseller team, please contact us today by signing up here.
Subscribe to our Mailing List
For news, product updates, offers and more, signup to our newsletter. See our Privacy Policy here