Making an impact with collaboration in Edtech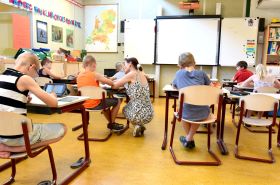 Collaboration is a vital tool in helping schools and institutions raise standards. It can be used to improve teaching and learning, leadership, and use of data and assessment. It works best when partners have similar characteristics, are nearby and both sides are fully committed at all levels.
One organisation that has been helping school and institutions collaborate is the Edtech Demonstrator Programme that was created by the Department for Education to ensure schools and colleges across England can access free expert advice from education technology specialists across the country.
The Edtech Demonstrator programme is peer to peer support designed to improve the use of technology in schools and colleges and to support remote learning and improve the school/college's digital strategy.
The EdTech Demonstrator Programme is a free service and is in place to support any publicly funded school or college in England with access to free, expert advice on educational technology. There is no cost to schools receiving support from the EdTech Demonstrator Schools and Colleges.
Grimsby Institute of Higher and Further Education is a great example of the Edtech Demonstrator programme in practice.
"I cannot believe how supportive and helpful Grimsby Institute have been; they have gone over and above to support myself and my staff in coming to grips with online learning/teaching. We have learnt ways to accept work that is not confined to the written word."
St Mary's Catholic Primary Academy
Subscribe to our Mailing List
For news, product updates, offers and more, signup to our newsletter. See our Privacy Policy here