Douglas Stewart celebrates double accreditation success!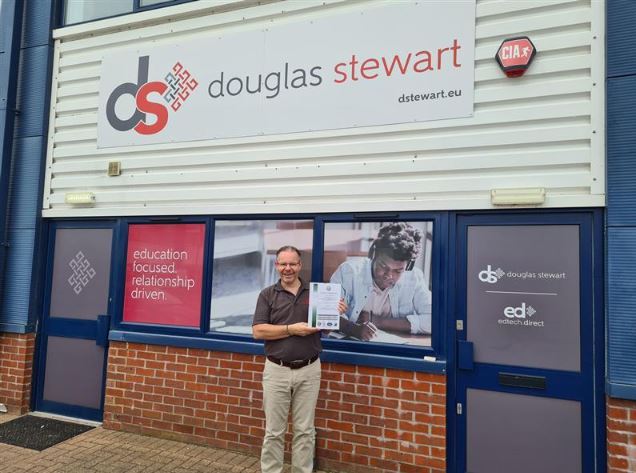 Douglas Stewart is celebrating having scooped two coveted accolades in recognition of best practice, adding a further layer of business excellence!
Our double accreditation success includes ISO 9001:2015 certification for our robust quality management system, and Cyber Essentials certification for our effective cybersecurity standards.
Ongoing improvement is a key part of our operations, and Douglas Stewart continually seeks new ways to advance our processes and provide the best quality services and value to our customers. This latest twin-win reflects our steadfast commitment to our customers and the education sector.
Throughout the comprehensive 6-month project, the entire Douglas Stewart team has been onboard, collectively supporting the in-depth work required to meet the criteria of both formal accreditations and achieve such high standards.
Ultimately, achieving dual recognition in this way helps our business increase productivity, operational efficiencies and improve customer satisfaction, with positive implications for our current, and future customers:
ISO9001 accreditation: working with Douglas Stewart just got better!
As an internationally recognised certification, ISO9001 is the global standard for quality management systems, granted by ISO – an independent non-governmental organisation.
Following a rigorous inspection and evaluation process, Douglas Stewart was awarded ISO 9001 certification, and impressively, there were no reported areas for improvement – a particularly unique achievement of which we have been informed is relatively uncommon!
So, what does this mean for our customers? Effectively, it's a mark of quality which ensures a better, smoother customer experience.
The quality of our products and services are superior to those without ISO certification.
We meet stringent global statutory and regulatory requirements.
Our quality assurance protocols mean customers are less likely to encounter any problems with products or services.
Seamless customer journey
With the flexibility and adaptability to respond to evolving customer needs, expect a seamless customer experience.
External consultancy, Smart Quality Services, supported Douglas Stewart throughout the process. Richard Duff, ISO lead consultant commented, "It was a real pleasure working with Scott, AJ and the wider team at Douglas Stewart helping them implement their Quality Management System and achieve certification to ISO 9001:2015. It's always great to work with a company that is already committed to a quality service and to driving continuous improvement throughout their business."
Scott Richardson, general manager, said, "To be awarded ISO accreditation is a major achievement and acknowledges our dedication to upholding international standards for the organisations that we work with across the education sector. It gives us a further competitive edge. As the world's most widely recognised quality management standard, we were also thrilled to hear that no opportunities for improvement were identified – this is significant kudos for the Douglas Stewart team."
Cyber Essentials accreditation: best of breed practices
Concurrently, we have been awarded Cyber Essentials certification which acknowledges that Douglas Stewart has taken the steps necessary to guard against cyber-attack.
Our vendors, resellers, and customers now have additional peace-of-mind that we have vigorous controls and measures in place to protect against common cyber-attacks and are compliant with the only cyber security standards that are Government-backed.
So, what does this mean for our customers? It shows that we take cyber security seriously, and that we have upped our cybersecurity game!
We have improved our cyber security awareness, implemented better processes, and continue to strengthen our cybersecurity approach.
We have taken steps to mitigate risks to our systems and data, providing customers with the confidence and reassurance that your data is safe with Douglas Stewart.
Douglas Stewart is now listed on the IASME (The Information Assurance for Small and Medium Enterprises) Consortium's website - the independent certifying body that delivers the only Government-backed standards.
Seamless customer journey
With the fundamental security measures in place to protect our business and our customers from cyber threats, we deliver a smooth, stress-free customer experience.
Scott Richardson, general manager, said, "Having successfully met all certification criteria including firewalls, secure configuration, user access control, malware protection, and security update management, our Cyber Essentials certification provides a strong foundation to build our cyber resilience further in the future. We're very proud to showcase this latest achievement with all our connections in the education sector."
As well as enhancing our already well-established reputation with current customers, we hope that our double accreditation success will attract new customers to Douglas Stewart by providing the reassurance that we comply with stringent professional standards and continually strive to improve our growing business.
Subscribe to our Mailing List
For news, product updates, offers and more, signup to our newsletter. See our Privacy Policy here